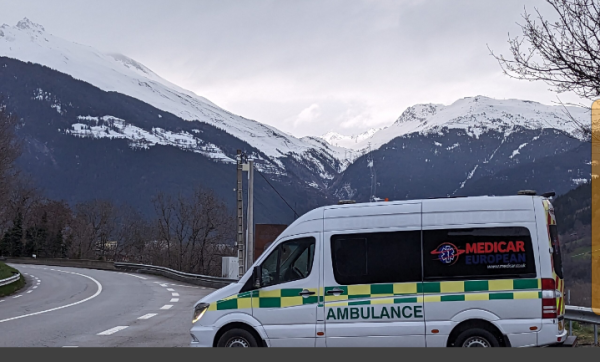 Medicar European, a trusted name in the realm of healthcare and emergency services, stands at the forefront of delivering life-saving solutions. Specialising in emergency ambulance repatriation from various European countries back to the United Kingdom, Medicar European is dedicated to ensuring the safe and efficient return of patients to their home country.
The need for emergency medical repatriation can arise suddenly, and when it does, time becomes of the essence. Medicar European recognises the urgency of these situations and provides a swift and comprehensive solution for individuals requiring medical transport from Europe to the UK.
Excellence in Emergency Repatriation
Medicar European's core mission is to offer compassionate care and unparalleled support to patients and their families during challenging times. Their team of highly trained medical professionals, coupled with state-of-the-art ambulance transport, ensures that patients receive the highest standard of care throughout the journey.
Comprehensive European Coverage
With a wide-ranging network and extensive experience, Medicar European offers emergency repatriation services from most European countries.Whether a patient requires transfer from France, Spain, Italy, or any other European destination, Medicar European has the expertise and resources to facilitate a seamless and safe return to the UK.
A Beacon of Hope for Families
During medical emergencies abroad, families often face daunting challenges, including language barriers and navigating unfamiliar healthcare systems. Medicar European serves as a beacon of hope, providing expert guidance and support to both patients and their families. Their compassionate approach ensures that families have peace of mind during the repatriation process.
Cutting–Edge Medical Transport
Medicar European's fleet of modem, specially equipped ambulances is designed to meet the unique needs of medical transport across borders. These ambulances are staffed by a skilled team of paramedics, nurses, and doctors who are dedicated to providing top-notch medical care en route.
The vehicles are equipped with advanced medical equipment to ensure the safety and well-being of patients throughout their journey.
A Lifeline in Critical Moments
The urgency of emergency medical repatriation cannot be understated. Medicar European is poised to respond swiftly, organizing every aspect of the transfer process, including flight arrangements, ground transportation, and necessary medical clearances. Their team takes on the logistics, allowing patients and their families to focus solely on their well-being.
Round–the-Clock Availability
Medical emergencies don't adhere to a schedule, which is why Medicar European operates 24/7. Their dedicated call centre is always ready to respond to requests, ensuring that patients receive immediate attention, regardless of the time or day.
A Testament to Trust and Excellence
Medicar European has earned a reputation for trust and excellence in the field of emergency repatriation. Families across the UK have placed their faith in Medicar European's ability to navigate complex international medical transfers. Each successful repatriation is a testament to their commitment to saving lives and reuniting patients with their loved ones in the UK.
About Medicar European
Medicar European is a leading provider of emergency ambulance repatriation services, specializing in transferring patients safely from European countries back to the United Kingdom. With a focus on compassionate care, top-tier medical transport, and round-the-clock availability, Medicar Europes a lifeline for those in need of medical repatriation.
Media Contact
Company Name: Medicar European
Contact Person: Tony Smith
Email: Send Email
Phone: +44 (0) 1233 660 999
Country: United Kingdom
Website: https://www.medicar.co.uk