2023 Carolina Film Festival: Celebrating Global Shorts & Industry Stars, Oct 14th! Tickets at CarolinaFilmFestival.com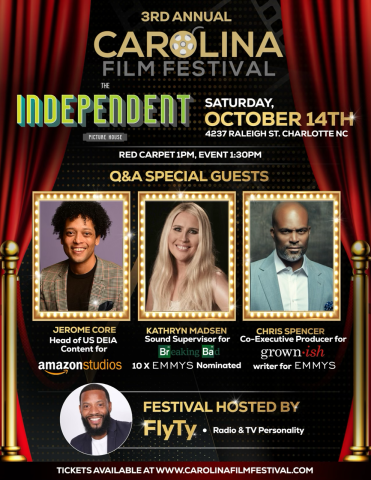 Mark your calendars for a cinematic extravaganza like no other! The much-anticipated 2023 Carolina Film Festival is set to captivate film enthusiasts and industry aficionados on October 14th, 2023. Hosted at the prestigious Independent Picture House Theater in Charlotte, North Carolina, this event promises to be an unforgettable celebration of short films from across the globe.
Global Showcase of Short Films: The Carolina Film Festival is proud to present a remarkable selection of short films that span genres, styles, and cultures. Audiences will be treated to an array of cinematic gems, from heartwarming dramas to thought-provoking documentaries and visually stunning animated shorts. With categories including Best Short, Best Documentary Short, Best Animated Short, and Best Trailer, the festival will recognize outstanding talent in the world of short filmmaking.
A Star-Studded Q&A Panel: Adding a touch of glamour to the event, the Carolina Film Festival is thrilled to announce a star-studded Q&A panel featuring some of the brightest luminaries in the entertainment industry. Attendees will have the unique opportunity to engage with and gain insights from:
Jerome Core: Head of US DEIA Content for Amazon Studios, Jerome Core brings a wealth of experience and innovation to the conversation.
Kathryn Madsen: As the Sound Supervisor for the Emmy-winning show Breaking Bad, Kathryn Madsen will share her expertise in sound design and storytelling.
Chris Spencer: Co-Executive Producer for the hit show Grown-Ish, Chris Spencer will provide valuable perspectives on the creative process and success in the industry.
A Mission of Celebration and Education: Beyond the glitz and glamour, the Carolina Film Festival stands as a non-profit organization with a noble mission. Committed to enhancing the love of filmmaking through education and fostering a platform where cinematic works from diverse filmmakers are celebrated, the festival embodies the spirit of inclusivity and creative exploration.
Get Your Tickets Today: Don't miss your chance to be a part of this cinematic extravaganza! Tickets for the 2023 Carolina Film Festival can be purchased at www.CarolinaFilmFestival.com.
Whether you're a film aficionado, a budding filmmaker, or simply seeking an unforgettable cultural experience, this event promises something for everyone.
For media inquiries, kindly visit their website.
The Carolina Film Festival invites you to join us in celebrating the art of filmmaking and the diverse voices that contribute to the world of cinema. We look forward to seeing you on October 14th, 2023, at the Independent Picture House Theater in Charlotte, NC, for an unforgettable day of film, discussion, and inspiration.
Media Contact
Company Name: Carolina Film Festival
Contact Person: Oliver J. Crooms IV
Email: Send Email
Phone: +1 (704) 806-6978
Country: United States
Website: www.CarolinaFilmFestival.com