One of the highlights of Interbike show – Onebot S6
The dawn of E-bike is coming with Schedule of banning gas engine car released by Holland, Germany, France, United Kindgom and China, etc…, many different E-Bikes new released caught the eye of us on this Interbike Show.
Can e-bikes bring more riders?
So, can e-bikes bring more riders? At least one highly influential industry leader believes so.
Mike Sinyard, the founder and owner of Specialized, who himself played a gigantic role in bringing mountain bikes to the world, thinks e-bikes might get more people on bicycles.
While at a recent e-bike launch, Sinyard noted that, "Just like the original mountain bike, e-bikes can bring a lot more people in."
Supporters of e-bikes often tout their usefulness for people who may be older, or disabled, or not as strong as their partner but still want to ride with them. Those are all fantastic uses, but they somewhat focus on only the current demographic already interested in bikes.
What about those people completely apathetic towards cycling in general? How does the bike world get their attention?
People can and will start paying attention when the bicycle switches from a solely recreational machine to an actual transportation device.
Think about it in terms of cars. How many people would buy cars if they were merely used for fun and not everyday chores and transportation?
E-bikes can fill that gap because they remove almost all of the worn out excuses for not riding a bike.
From below trend map, we can see the steady growing search ( from Google trend),

And another factor that E-bike can bring more riders is that more and more personal and unique designed E Bike spring up. Here we wound like to introduce you one Unique Electric folding bike which impress us on this Interbike Show.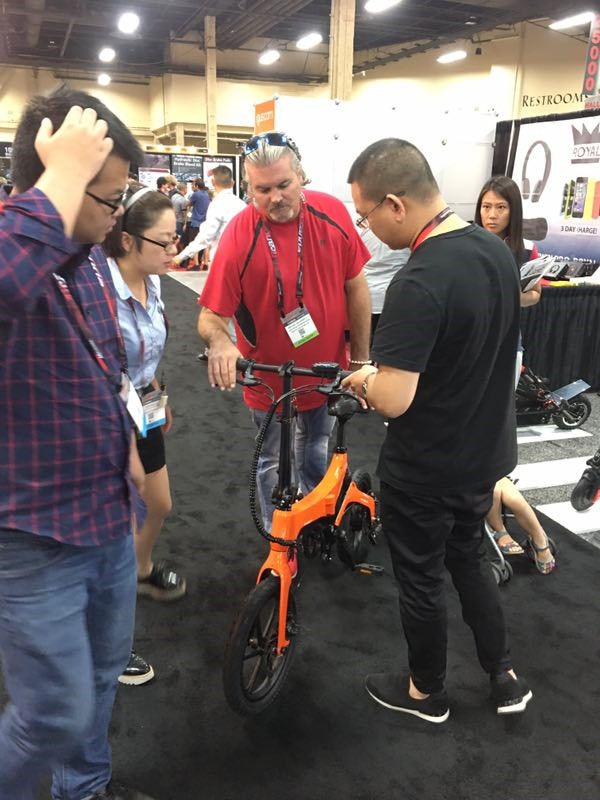 What caught our eyes are the unique design and bright yellow color of this E bike. It is called Onebot S6, With a further close looks, we found that it is body frame is magnesium alloy integrated molding without any welding and sealing, which make it looks more solid and sharp looking, besides sharp looking, with bulid-in smart drivin system, it can understand the road condition and judge the rider' intension and then output adaptive and accurate assistant power.
This amazing collapsible bike are released on the end of September with several sharp colors by an Company called "Shenzhen Concept Wit Technology Inc", It is interesting to find that they have also release another unique model Onebot T8 which was called "Hummer of Electric collapsible bikes".
From interview of this company, we know that it is one of thousands of new high tech enterprises, focusing on new energy vehicles with "smart vehicle & wise trip"as their mission. It was established on 2006, and now they are making preparation for Canton Fair of Autumn edition with three boothes booking (Booth No. H28-29, and Booth No. E19, Hall 16.2, Pazhou complex, No. 380, yujiang middle road, jaizhu district, Guangzhou, China.)
Media Contact
Company Name: Onebot Technology Co.,LTD
Contact Person: Aaron Chen
Email: [email protected]
Country: China
Website: www.onebotbike.com